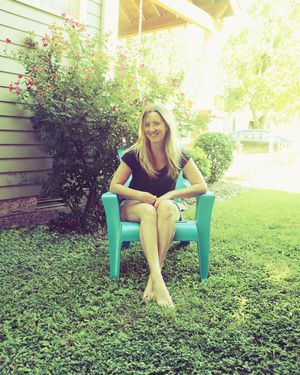 Photo by Griffin Norman



Movie News
It's new movie Tuesday – the day new DVD releases come out. And guess what? Check your local Red Box for the movie –
Good Day For It.
My song,
Bad Timing
, is featured in a scene. Very exciting!
It's a film by Nick Stagliano that had a premiere at the Nashville Film Festival this past May. The actors include Robert Patrick, Hal Holbrook, Kathy Baker, Lance Henrikson and Samantha Mathis. You may remember I wrote a blog about the premiere earlier this year. My dear friend,
Matthew Ryan
,
also scored the film.
In other good news, it looks like I may have three songs in another film coming out next year. I can't say too much about it because we're still in the final talks. Keep your fingers crossed!
Headed to Norway for Tour
It's almost here, and I can't wait. I'm headed to Norway on Nov. 2 for a solo acoustic tour, playing seven show s in 10 days. It will be my second tour overseas in a little over a year, but my first to Norway as a solo artist. I will be playing listening rooms, clubs, and "one rowdy private party" according to my booking agent and promoter,
Camilla Sorhus
.
I will be playing songs from my new record,
Make Everything Bright
, and from
Shoot the Sky
. I am working now on set lists and getting all my gear ready to travel. I can't believe it's only two weeks away. I am really excited to be working with Camilla.
Amelia White,
one of my close friends, artist and co-writer with me (
Leaving in My Blood & Make Everything Bright
), had praised Camilla after a tour with her in Norway. She talked of how Camilla loved our kind of music, and then mentioned that she was coming to the states to visit. As it played out, Camilla ended up being my roommate during her visit to Nashville last Spring. We had a great time and became good friends. As we talked, she asked if we could do a tour for me in Norway…and now I'm headed over.
Camilla is one of the best in the business. She has worked with Bobby Bare Jr., Jon Byrd, Amelia, Mark Huff, Peter Molinari and many others. I'm lucky to have her as a supporter of my work.
This is my first solo music tour to Norway, but I lived there for six months in 1991 working as a teaching assistant to an art teacher in a school for mentally and physically challenged children. I really enjoyed my time and look forward to going back. Through Facebook the last few months, I have connected with some of the friends I made 20 years ago. I hope to see them during my tour.
I did a few dates in Norway during my overseas tour with
Kim Carson
last summer. And it was a wild time. I know this sounds a bit out of character but I smacked two men for grabbing mine and Kim's behinds... wait, I will explain!...It's day time over there during the summer and the winters are dark 24-7. So when summer hits, the people have a great time and drink a lot of beer. We played a festival where the crowds camp out, drink beer, dance and listen to music all weekend. They love to line dance. Americana, folk and especially country music are big there. They have all these booths set up where people are selling music, cowboy hats, leather belts, and food. The people in Norway are very reserved, but at these festivals they let go and have a good time.
Ok...so here's the "butt grabbing story!" The first "behind grab" was while we were listening to the band playing after us, and this guy comes up and just grabs me. I turned around and clocked him. He just laughed, stumbled and went on his way. Then just about 30 minutes later. It happened to Kim while we were listening to more music, and I clocked him too. This time, Kim got in his face and asked him if his mother raised him to treat a lady that way. Typical Southern response – he was Norweiga, Ha! But, he knew exactly what she meant!
I can't wait to get back and play. The people love music and really appreciate what we (americana/folk/indie musicians) are doing. It's the prime time to play because it's winter and there isn't a lot to do. Most of these venues are closed during the summertime while people hit the outdoors and festivals. This is the time to tour the cities.
The country is absolutely beautiful – almost fairy tale gorgeous.
I will blog and post pics during the tour, and take you along with me.
Well, I better get back to rehearsal and packing. I will post the next song blog for
Make Everything Bright
on Thursday. This one is for
Hey, I've Been There Too
.
Talk to you again on Thursday!
Happy Tuesday.
Peace & Love,
Molly