Hi Everyone!

It's been awhile since you've heard from me, and I just wanted to catch you up on a few things. First of all, I'm finally getting back into touring and have had a couple of shows recently, and a few more coming up that I want to tell you about. Next Monday, May 23rd, I will be playing in Atlanta at Smith's Olde Bar starting at 8:00 PM. I will be accompanied by Dave Coleman of the Coal Men. All you folks in Atlanta, please come out and say hello... we need your help!!! Tickets are only 5 bucks, so come support the music!!!!

As you may already know, I finished my last record, "Make Everything Bright" last year this time before touring in Europe last summer with Kim Carson. However, I am FINALLY getting around to having the record released in the US. June 28th will be the release date, and I have a few record release shows in July. I will send out another message around that time to promote those shows.

Last month, I had the honor of being a part of the Nashville Film Festival, as Nick Stagliano's film, "A Good Day For It," was a feature film. My song, "Bad Timing" (It's from my 2005 release of "Shoot the Sky."), that I wrote with Mando Saenz,was used in the film. The film is currently traveling to film festivals across the country. 
Also, my dear friend and music pal, Matthew Ryan scored the entire film and did a brilliant job! Matthew, by the way, has a new record coming out soon, so be on the look out!


Molly & writer & director, Nick Stagliano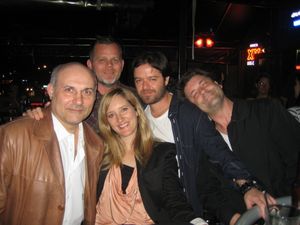 Nick Stagliano, Matthew Ryan, Molly Thomas, Mando Saenz & Chris Tench
I started a new website to promote my session work as a violinist/composer/arranger. If you have time, please check out that site and listen to some of the various artists I have worked with currently and in the past. The website is:
www.dulcetsounds.com
That is all the news I have at the moment... at least that I can remember, :)
Please stay in touch & as always, thank you so very much for your support!
Peace & love,
Molly