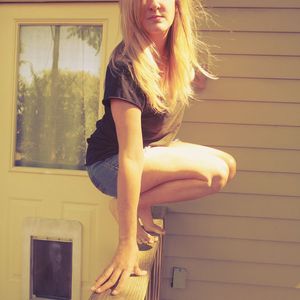 Photo by Griffin Norman


So you wanna know what's ahead. But everything now that's been said is a question.
Take the day as it comes. You're 35. You're in the slums. Just be a man. Oh be a man…
Welcome back. I've been writing & recording with a few other people lately on side projects, and wanted to keep moving along with these blogs about each song from my new album, Making Everything Bright .
This one is about the song, 35's Got You Down. After one listen, I know many of you wonder – again – this must be about a man-bashing situation or a relationship gone wrong. True, it is about men I've known or met going through a mid-life crisis. But, it's really about that stage in life we all go through at that age, and at times again later in life.
Here's the story about 35:
I wrote it a few years back with K.S. Rhoads. (Check out his music, too – an incredible talent) I had written the lyric and had a melody, but something just wasn't clicking. I was writing & working with him at that time, and he came over to help me. We started talking about this song and what I wanted it to convey lyrically but also musically. K.S. is so talented, and he came up with a new melody right off…started playing around with a new rhythmic pattern. I loved it and it evolved from there.
The idea came from no one specific. Observing guy friends or guys you meet, who are going through that time in life where they are questioning it all – love, job, friends. It's basically about the ones who are so self-absorbed in their mid-life crisis they can't see the real life in front of them.
But, in writing the song…it's not just guys who get to that stage in the mid-30s. We are all at one point or another going – what the hell? Am I doing it right? Is there more out there for me than this? Should I have taken a left when I took that right? Is this love?
Don't question 35. It's just depression, you'll survive.
That one line says it all. We survive. It's time to get it together and move on. I've had to tell myself the same thing. It's not just about guys, but you know we've all had one like this. Haha. It's fun with this song focusing on the guys because girls are always thought to be the ones brooding about life and problems.
This is usually one of the most popular songs when we play it live. It's kind of an anthem for today's woman (or man)! People like it because of the message & the "ba ba ba's" but also the cool laid back vibe that K.S. helped give it.
I hope everyone had a great weekend, and you are enjoying this fall weather. Next up is
Hey, I've Been There Too.
Thanks for your great response to these blogs, and look forward to seeing you on the road soon!  
Peace & Love,
Molly